Posted by Portions Master on 23rd Nov 2020
Cold processed whey protein is superior to other methods of processing because the protein per serving is greater, there is more calcium, and less sodium.
There are many different options when it comes to choosing protein powders: concentrate, isolate, cold-pressed; but are you familiar with how each type is processed and how it affects the outcome of the protein?
Below is a review of the benefits of cold-processed whey protein.
Cold Processed Whey Protein
What Is Cold Pressed Whey Protein
Cold processed whey protein is processed at low temperatures and mechanically separated to remove unwanted sugars, fats, and impurities. Cold processed whey protein is superior to other methods of processing because the protein per serving is greater. Also, there is more calcium and less sodium. Cold processing whey protein helps it to retain more of its amino acids and nutrients.
How Does Cold Pressed Processing Work?
Cold pressed whey protein is micro-filtered to remove larger particles and yield the highest quality protein possible. Because heat damages protein this process uses low temperatures. Using a cold process will preserve the protein's structure and protects it from damage.
The CFM ( Cross Flow Microfiltration) process is a completely chemical-free, premium manufacturing process that utilizes ceramic filters to remove lactose, fat, and other undesired materials to isolate protein more effectively.
In crossflow filtration, an incoming feed stream passes across the surface of a crossflow membrane, and two exiting streams are generated. The permeate stream is the portion of the fluid that passes through the membrane. This filtered fluid will contain some percentage of soluble and/or insoluble components from the initial feed stream that are smaller than the membrane removal rating.
As the feed stream passes across the membrane, the transmembrane pressure drives the separation. The rapid crossflow at the active membrane layer continually sweeps away particles and other material. – CFM PROCESS
This means that cold pressed Whey Protein has more protein per serving compared to other processed proteins. Also, it absorbs faster, digests easier, contains more calcium, and less sodium.
Click Here To Buy Now Direct From Portions Master!
What Are The Benefits Of Cold Processed Whey Protein?
There are many benefits of cold processed whey protein products. Because of the careful cross-flow microfiltration process used to produce the protein, the final product is superior, unlike ion-exchange protein which may cause break down to the milk sub fractions unique to whey (bodybuilding.com).
Below are some of the benefits of using a Cold Processed Whey Protein Isolate:
High-Quality, Clean Protein Profile
Promotes Muscle Growth & Recovery
Supports Weight Loss
Boosts Metabolism
Reduces Hunger
Fast Absorption Rate
Vast Amino Acid Profile
Provides More Calcium
Minimal Fat
Minimal Carbs
Lactose-Free
Easy To Digest
Low Sodium
Superior Taste
Easy To Mix
For example, check out the Supplement Facts on this label of Portions Master Cold Processed CFM Whey Isolate Protein.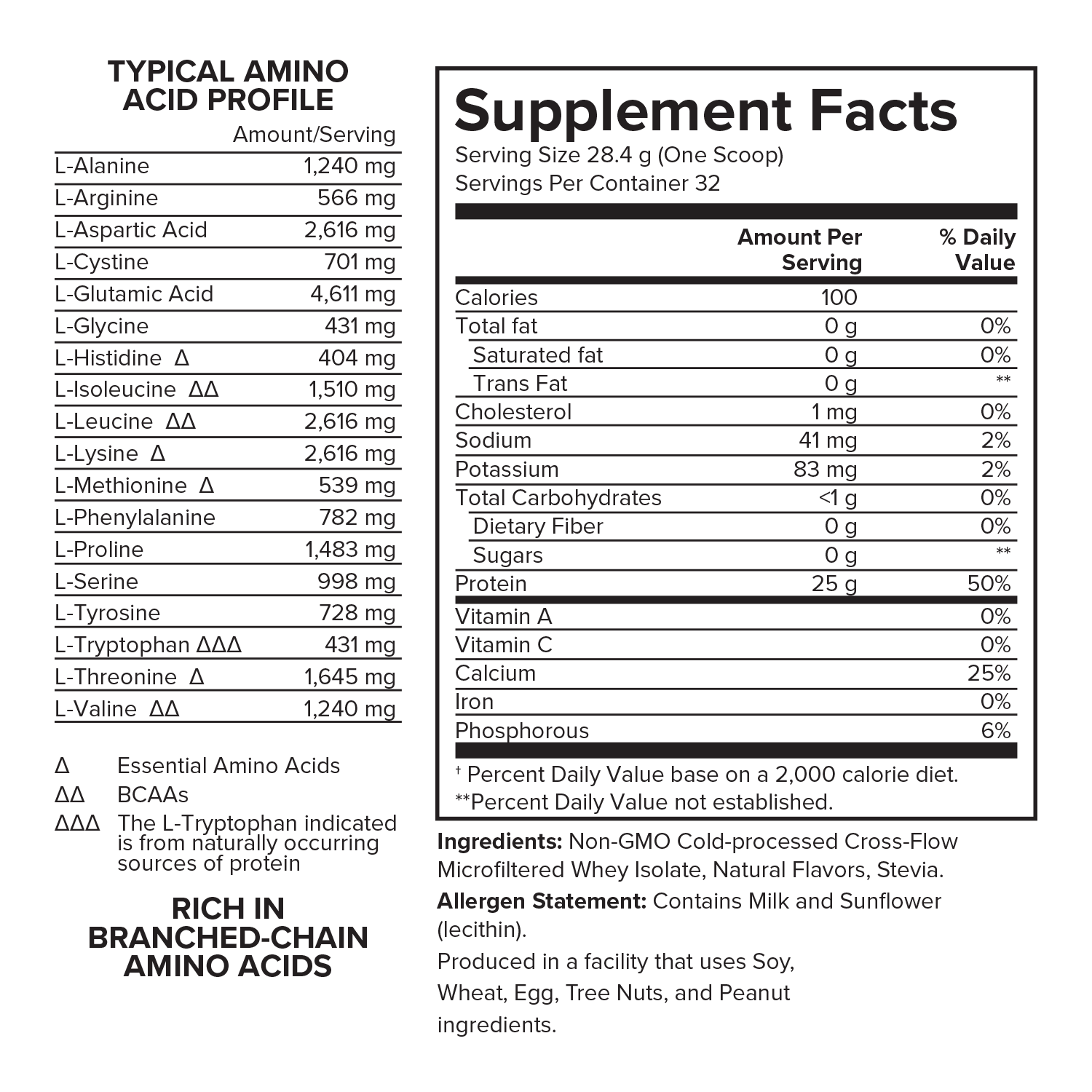 Each scoop provides 24 grams of protein. There is zero fat, only one carbohydrate, and 100 calories per scoop. Additionally, notice the ingredient list: no added sugar, no additives or fillers, no preservatives. This protein is also hormone-free, gluten-free, soy-free, GMO-free, and of course, lactose-free.
There are many benefits to using a high-quality cold processed whey protein isolate. If your goal is to supplement your diet with protein, control hunger, increase muscle, or lose weight using a CFM whey protein may be a good choice for you.
When To Use Cold Processed Whey Protein
Post-Workout: Replenish your body with the protein it needs to recover after training.
Before Sleep: Rebuild while you sleep. Help prevent protein breakdown that naturally occurs when you sleep.
In-between Meals: Portions Master Whey Protein Isolate stabilizes blood sugar levels, reduces cravings, boosts metabolism, and helps maintain high energy levels making it an optimal choice any time, day, or night.
Mealtime: Balance any high -carb or high-fat meal with protein.
Why Is Portions Master Cold Processed Whey Protein Better?
Your health goals, nutritional needs, or workout routine are all factors when considering adding a protein supplement to your diet. The type of protein you choose should also benefit you by providing you with quality ingredients. CFM Whey Protein Isolate is a clean and effective protein supplement that anyone could benefit from.
Clean and simple (only 3 ingredients)
24 grams of whey isolate protein per serving
Only 100 calories per serving
Less than 1 gram of fat per serving
Only 1 carb per serving
Non-GMO
Gluten-Free
Lactose-Free
Zero added sugar (sweetened with stevia)
Banned substance free
Pharmaceutical grade
About Portions Master
Portions Master specializes in unique, scientifically validated products and supplements that help achieve and maintain a lean lifestyle.
Our focus is to offer quality products and supplements to make it as easy as possible for our customers to improve their health.