Looking and Feeling Great Starts with Your Plate
Ensure you are eating the proper portion size for your desired weight goal
Achieve and maintain your weight loss goals faster
Eliminate calorie and points counting
Stop over-eating
A key aspect of making consistent progress with any eating plan is controlling the amount you eat each meal.
Eliminate Confusion. Reach Your Goals.
We all know how much of a hassle it can to constantly weigh, measure, and track the food we eat.
Over-eating is easy to do because it can be difficult figuring out how much to eat... counting calories can be confusing and weighing your food takes time.
The Portion Master approach makes achieving your fitness goals easier. This unique plate can be used by people who want to lose weight or maintain current fitness levels.
Simplify Portion Control
The Portion Master Plate trains you to eat healthy portion sizes by specifying exactly how much food to eat at each meal.
Research shows that smaller portion sizes alone can cause a dramatic impact on health - including your weight, blood sugar, blood pressure, and levels of hunger.
Eating smaller, more balanced meals prevents your body from going into 'starvation mode' and storing the food you eat as fat. It also allows your body to burn more calories and fat for energy.
How Does The Adjustable Portion Control Plate Work?
Portions Master uses preset portion sizes for protein, carbohydrates, and greens according to your goal weight. Simply select your goal weight, fill in the portions with your favorite foods, and use the plate for 3 meals per day.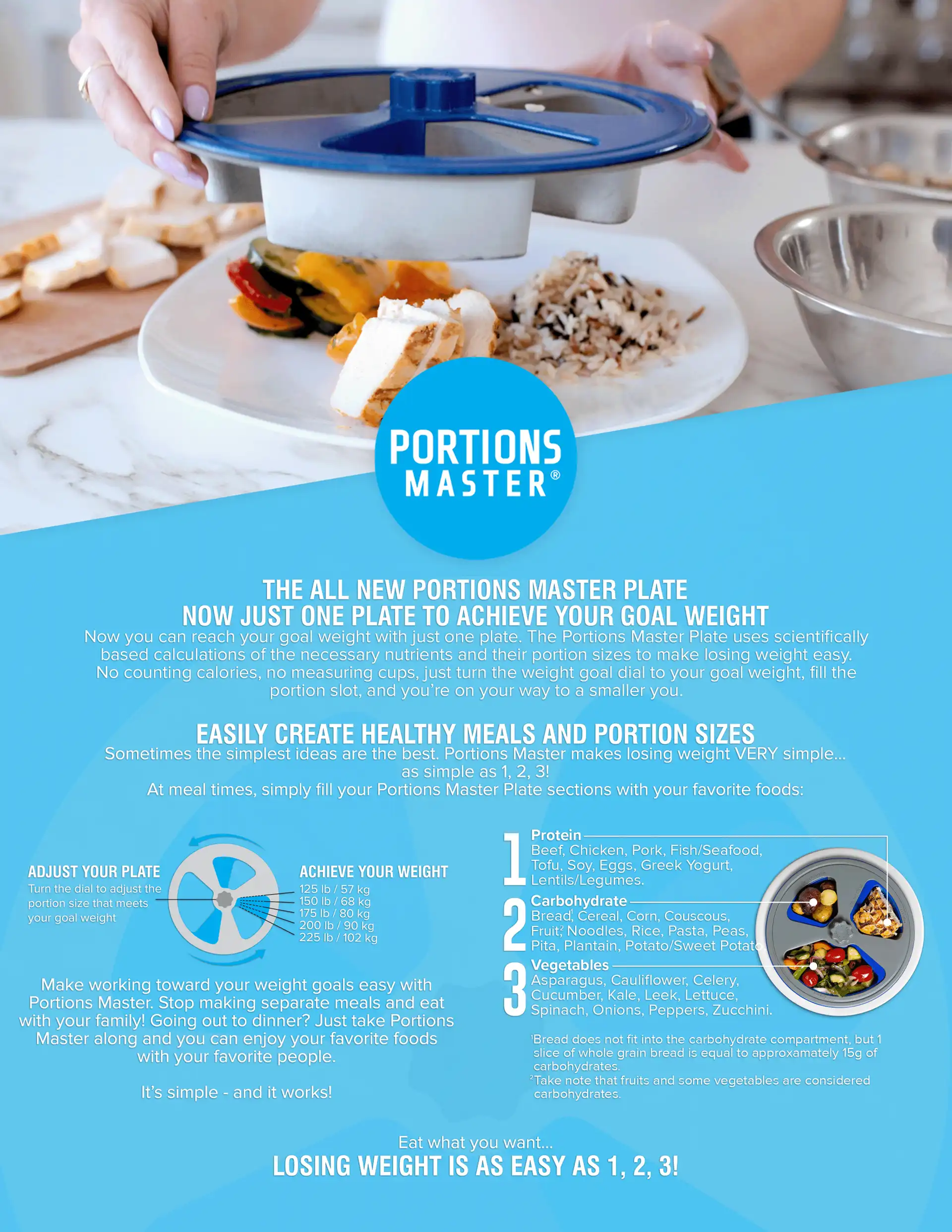 Portions Master uses preset portion sizes for protein, carbohydrates, and greens according to your goal weight. Simply select your goal weight, fill in the portions with your favorite foods, and use the plate for 3 meals per day.
With Portions Master – there are no counting calories, measuring food, or counting points so you can get the results you want as easily as possible.
Portions Master is adjustable according to your goals, so you can get results perfectly tailored to your needs.
Scientifically researched portion sizes for protein, carbs, and vegetables so you can eat the foods you enjoy and still lose weight.
No more wasting money on 'fad' diets, programs, or memberships that promise great results but don't work.
THE PORTION MASTER PLATE PHILOSOPHY
Long-lasting results are achieved by seeing the correct amount of food on your plate and reconditioning your eating habits.
Instead of calculating the amount of calorie intake per food item, the Portions Master plate is designed to provide the correct volume of food for each food category. This system was developed in collaboration with nutritionists, dietitians, and health care professionals.
Portions Master specializes in unique, scientifically validated products and supplements that help achieve and maintain a lean lifestyle.
Our focus is to offer quality products and supplements to make it as easy as possible for our customers to improve their health.
NO COUNTING CALORIES
Portions Master Plate makes losing weight easier. Simply dial in your desired weight and your plate will adjust the portion sizes automatically.
SCIENTIFICALLY RESEARCHED
Portions Master partnered with a group of doctors and nutritionists to identify the perfect portion size you need for your targeted weight goal.
NO MACRO MATH
Targeting carbs, proteins and fats, Portions Master already worked out the math and science for you so all you need to do is select your goal weight and fill the Portions Master Plate compartments.
CONVENIENT PORTION CONTROL
Portions master plate can be taken with you to work or on travel. Simply place on your plate and fill your portions. Whether you're vacationing or traveling for work, you can choose healthy portions with Portions Master plate.
219 Reviews
Ordered on Amazon a few weeks ago and can already see a change in my waist

Lost 8 pounds so far!

Portion control used to be around back in the day but this totally reinvented the wheel 100x better! I have lost almost 14 pounds using this plate !

Perfect for portion control!

I love this new invention. It definitely makes it easy to manage portions and lose weight.

I wasn't looking to lose a ton of weight, just looking to drop a few stubborn pounds. I got the plate and set the dial to 150 lbs. What I noticed after about a few days of using the plate is I wasn't feeling bloated after eating all the time. I think I conditioned myself to always finish what was on my plate so I wouldn't waste food. This plate has taught me to eat the correct amount. Now I don't pile too much on my plate. I am feeling better and looking leaner.

Amazing idea!

You get PLENTY of food. I thought I was going to best starved. I eat it 3x a day with one protein shake and can already see a difference in the mirror!

I love it. Really helps me to stay on track with my portion control eating.